Mitsubishi Fuso Trucks


Fuso delivery trucks are dependable, earning their reputation for reliability in demanding applications such as refrigerated transport, towing or beverage delivery.


Delivering lower cost-of-ownership. Mitsubishi Fuso Canter 2018.
Our all-new Canter® Series cabovers redefine everything you want in a business truck. They're designed to outperform competitive trucks with better fuel economy than previous models. Up to 2,200 pounds greater payload capacity. Exceptional visibility and maneuverability. Plus, 18,000-mile maintenance intervals for maximum uptime and less scheduled maintenance. All backed by an industry-best warranty that protects not only the engine, but also the entire powertrain, for up to 5 years/175,000 miles.
These trucks will change the way you think about moving your products and business forward, with cost-of-ownership so low you can measure it by the mile. In fact, if you drive as few as 20,000 miles annually, a properly driven Canter can move several thousand dollars to your bottom line in operating cost savings in just three to four years. And it's just getting started. Imagine how far its dependable performance and lower costs can take your business.

MITSUBISHI FUSO
CANTER FE130


13,000 GVW

MITSUBISHI FUSO
CANTER FG4x4


14,050 GVW

MITSUBISHI FUSO
CANTER FE160


15,995 GVW

MITSUBISHI FUSO
CANTER FE160 Crew cab


15,995 GVW

MITSUBISHI FUSO
CANTER FE180


17,995 GVW
Fuso Truck Vocations
Contractors: Whether you're a plumber, carpenter, electrician or other contractor, a dependable truck is the most important tool of your trade.
Dry Freight: Delivering is what you're all about. The more pickups and deliveries you make, the more money you make.
Fleet Operations: Whether you run a small, medium or large fleet of trucks, uptime is everything.
Landscaping: Isn't it time the grass is greener on your side of the fence?
Off-Road: Is your road to success paved with rocks, mud or other obstacles?
Plowing: Say goodbye to long-nosed conventional plow trucks. Now you can avoid plowing into something you can't see.
Public Works: With city and municipal governments under intense pressure to cut costs, the Canter's low cost-of-ownership is just what the taxpayers ordered.
Refrigerated: Your reputation for dependability is as perishable as the goods you carry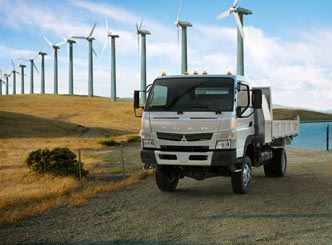 Canter Main Features
Visibility – panoramic windshield and side windows, large side view mirrors.
Maneuverability – tighter turning radius than a MINI Cooper.
Small displacement/high-performance – 4P10 diesel, compact 3-liter design with 2-stage turbocharger, piezo injectors for high torque and fuel economy.
Better transmission solution – DUONIC® 6-speed automated manual type eliminates torque interruption between shifts and features ECO Mode for higher fuel efficiency.
BlueTec® – strict emission compliance while improving fuel efficiency, no engine tuning compromises required.
New frame – lighter weight frame, more load capacity, easier body mounting.
Ultra high capacity cooling system with dramatically improved airflow around it and the engine.
In Park, parking gear locks vehicle in-place.
Rear suspension – boxed hangers for added strength.
Advanced Technologies
Some trucks bring together engines and transmissions with little or no engineering partnership between the manufacturers, which can compromise powertrain performance. Not the Canter. Its 4P10 diesel engine and DUONIC transmission are perfectly matched, developed to work together and proven in more than 2 million miles of real-world testing.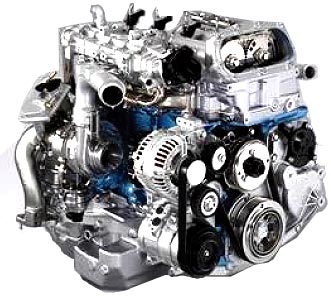 Engine
The Canter's turbocharged, dual overhead cam 4-cylinder diesel engine is a technological marvel. Lighter and more compact than traditional diesels, it delivers its flat torque continuously from low through high RPMs, to move payloads more efficiently. It is complemented by a 2-stage turbocharger to produce optimum boost pressure over a wider range of driving speeds. The more precise fuel metering of Piezo direct injection also helps the engine achieve far greater combustion efficiency and fuel economy.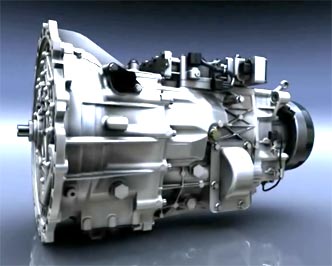 DUONIC Transmission
Automated manual transmissions have been proven over many years in race cars. Mitsubishi Fuso's 6-speed DUONIC transmission is the world's first in a commercial vehicle. It combines the economy of a manual transmission with the convenience of an automatic, with dual clutch actuation and no torque interruption between shifts. It also incorporates the ability to creep in traffic for smoother operation and offers the advantage of ECO mode, upshifting earlier in heavy traffic to consume less fuel.

The engine uses environmentally friendly BlueTec® emissions control technology (also found in Mercedes-Benz automobiles and Freightliner trucks). BlueTec® treats emissions after they exit the engine using a diesel particulate filter and urea SCR system that meet today's stringent standards for NOx and CO2 emissions reduction, without the traditional fuel economy penalty. BlueTec® is simple to operate and easy to maintain.
Cab Features/Interior
Canter FE/FG Series trucks are among the roomiest, quietest and most comfortable we have ever designed. Large expanses of glass, easy to see and reach instruments and controls, large side view mirrors and an excellent driving position combine to deliver superior all-around visibility. The multi-functional instrument cluster even includes an instant fuel economy readout and diesel exhaust fluid monitor.
The exclusive dash-mounted shifter operates the Canter's 6-speed DUONIC automated manual transmission, which may be left in Drive or manually operated up (+) or down (-) though the gears for the ultimate in driver control. Shifts are seamless, with no shock or torque interruption. Plus, there's a driver-activated ECO mode that enables the truck to up-shift earlier in congested traffic conditions for smoother acceleration and further fuel savings.
Plus, there's plenty of room for everything. Side and overhead storage space, coin and cup holders, bins and glove boxes abound. The center seat folds to reveal a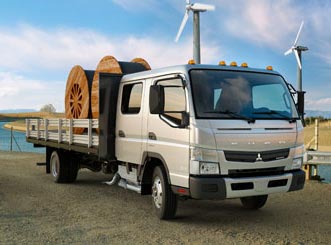 platform for laptops and clipboards. A high capacity HVAC system ensures year-round comfort.
Safety features are here too, from an impact-absorbing steering column and side door crush bars to wide-swing doors and covered serrated steps that facilitate safer entry and exit. They are complemented by anti-lock, dual-caliper disc brakes (anti-lock drums on FG), and electronic brake distribution and override systems for more sure-footed stops.
This is a cab you can do business with, comfortably and productively, for years to come.

Turning Radius
The Canter runs circles around so many other trucks you might think we've built a sports car. The turning radius of our Canter FE130 model, for example? Just 34.1 feet. That's even tighter than the MINI Cooper's turning radius of 35.1!